Education Requirements for Chiropractic Doctors
Even though chiropractic practices are becoming more popular and accepted as medical treatments, some don't consider chiropractors to have much training. These people are wrong. People are only called doctors when they have earned the title through extensive education and training – chiropractors are no different. In this article, I will answer all your questions about the kind of education that chiropractic doctors receive to practice.
So, what kind of Education do Chiropractic doctors receive? Practicing chiropractors are required to have a Doctor of Chiropractic degree and a license in the state where they practice. This degree program takes 4 years to complete, postgraduate. Once degree-seeking individuals have graduated, they must then pass all four parts of the National Board of Chiropractic Examiners exam to obtain their state license.
Whenever you receive treatment from a chiropractor, rest assured that they have gone through extensive education and training to practice. Now that you know what kind of education is necessary for chiropractic doctors, we will explore the types of programs available and what it takes to be accepted into one, as well as the type of training that accompanies the specialty.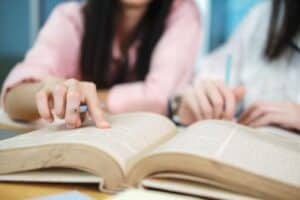 Chiropractic Education and Programs
Individuals seeking to obtain their Doctor of Chiropractic degree should anticipate studying coursework at the undergraduate level that consists of physics, biology, and chemistry. Most chiropractic programs will require students to have a bachelor's degree before acceptance.
You should be sure to maintain at least a 3.0 cumulative GPA, with a slightly higher science GPA, and you should have completed at least 90 hours of college courses, with at least 24 hours of life and physical sciences with lab work before applying to Doctor of Chiropractic degree programs. Certain schools may require other standards, but these are the main ones that should be considered.
Once in the Doctor of Chiropractic degree program, education consists of anatomy, biology, physiology, and other similar subjects. Beyond the coursework, students will also receive clinical experience under a supervisor where they will train in spinal assessments, adjustments, and making diagnoses. 
In some cases, students may want to take classes in business or finance, especially if they are wanting to open their practice after graduation. Depending on the school, some programs may offer dual degree options where students can earn a Doctor of Chiropractic degree while also earning a bachelor's or master's degree in another field.
After graduation from their Doctor of Chiropractic degree, some students may continue training in specialty areas, such as orthopedics and pediatrics.
Licenses and Certifications for Practice
No matter which state you would like to practice in, you will be required to be licensed. The National Board of Chiropractic Examiners test consists of 4 parts including a computer-based, multiple-choice exam, and sessions where you will demonstrate your knowledge and abilities.
Part I: six domains – general anatomy, spinal anatomy, physiology, chemistry, pathology, microbiology; each domain consists of 50 multiple choice questions, the recommended passing score for Part I is 375 for each domain.
Part II: six domains – general diagnosis, neuromusculoskeletal diagnosis, diagnostic imaging, principles of Chiropractic, chiropractic practice, associated clinical sciences; each domain consists of 50 multiple choice questions, the recommended passing score is 375 for each domain.
Part III: without diagnostic imaging interpretation – two sessions, each with 110 multiple choice questions and 10 vignettes (broken down further); with the Diagnostic Imaging Interpretation – two sessions with 80 multiple choice questions each, 20 case study vignettes, and 20 diagnostic imaging studies (broken down further); 375 for the Part III exam is passing and most states will accept this instead of a state-level has written clinical competency exam.
Part IV: 3 sections, divided into stations – diagnostic imaging, chiropractic technique, case management; you will answer questions and demonstrate your technique, as well as perform a case history, physical exam, orthopedic and/or neurological test; 375 is passing.
Passing the National Board of Chiropractic Examiners test is no easy feat, so whenever you visit a chiropractor, know that they have received all the proper training required to treat you.
Skills Required of Chiropractors
If you are considering pursuing a Doctor of Chiropractic degree, there are some qualities and skills that are important for you to have. Like other medical professionals, chiropractors need to be decisive when choosing a course of action while treating a patient, and they need to know when to refer the patient to other providers. Being observant during treatment can help chiropractors make proper diagnoses and adjust treatment according to the patient's needs.
Displaying empathy and interpersonal skills are important for almost all healthcare professionals. When you are working with a patient, you want to make sure you are considering their needs, feelings, pains, etc. and you want to be able to put them at ease and make them comfortable. 
Different from other physicians, chiropractors need to have the physical ability to manipulate the body and other joints. Proper therapy requires dexterous use of the hands for it to be effective.
If a chiropractor is self-employed, organizational and business skills are necessary. Setting appointments, prices, billing insurance companies, managing employees, maintaining files and records, etc. are all important for running a successful chiropractic business.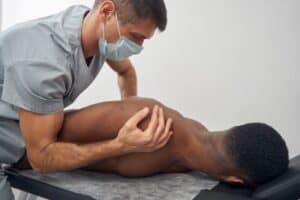 What Kind of Treatments Do Chiropractors Perform?
Most people go see a chiropractor for spinal adjustments. This is the process where the chiropractor manipulates the spine and moves joints outside their regular range of motion. When this happens, you may hear a loud pop as the joint moves. You won't experience any pain – rather, you will likely feel immediate relief.
Chiropractors use several different treatments beyond spinal manipulation and adjustments like:
Therapeutic Exercise and Stretches
Spinal Traction
Muscle Stimulation
Dietary Counseling
Lifestyle modifications are all treatments that chiropractors may use in their practice.
Each of these treatments is meant to alleviate and help control pain, strengthen areas of the body that carry stress and tension, stimulate muscles and the body to heal and function properly. 
Like all medical professionals, the overall health of the patient is the goal so things like diet counseling and lifestyle modification are services many chiropractors will offer. 
Consider Your Options
Before going to the chiropractor, talk with your doctor about your options. They may be able to help you find a chiropractor that they trust and who can help you best, or they may have another treatment option available for you to consider.
Be sure to explain your pain or health problems clearly to ensure you get the most accurate diagnosis possible and so that a proper treatment plan can be created.
Related Questions
How Much Do Chiropractors Get Paid?
The expected wage for chiropractors will differ based on location and experience The median wage is around $70,000 a year. That number will increase as the chiropractor gets more experienced and grows their client base, start their practice, etc.
Depending on whether the chiropractor is self-employed, most work full time and work regular hours. Some chiropractors will work evenings or weekends to accommodate patients, and some even travel to patients' homes. 
The occupation is continuously growing as the practice becomes a more popular way to treat chronic pain. If you're interested in starting your career you should easily be able to find a job.
Who Are a Chiropractor's Most-Likely Patients?
Chiropractors routinely treat people of all ages and stages of health – from infants to the elderly. Many people are surprised that chiropractors would work with babies and children, but you would be amazed to learn the positive impact an adjustment can have on them. Infants after an adjustment will have a better time breathing, be less gassy, and be able to poop easier.
Other individuals who are common patients of a chiropractor include car accident victims, people living with chronic pain, or people who have been injured in some way. Many people will first go to the chiropractor because they are experiencing headaches or back pain, but will continue going after they realize all the positive impacts that can come with regular adjustments.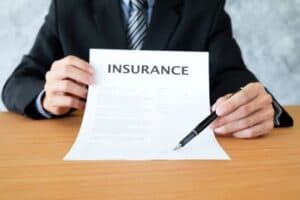 Do Chiropractors Work With Insurance?
As the chiropractic practice has grown more popular in recent years, insurance coverage has expanded to include it in certain policies. Most policies will have stipulations regarding the coverage. These restrictions to the number of times insurance will cover a visit, the need for a physician referral stating that treatment is medically necessary, the need to use in-network chiropractors, etc.
Most insurance policies will only cover short-term care, such as after a car accident, and will not pay for long-term care such as chronic pain. If you're unsure if your insurance covers chiropractic visits, talk with your provider and work with your physician to get a referral – most providers are happy to help.
With insurance, you can expect your chiropractic care to cost $30 and under, without insurance, a visit may cost closer to $50-$75, depending on the level of treatment required.